Waimea Canyon waterfalls hiking tour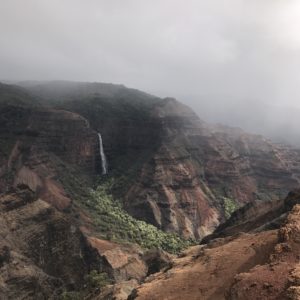 Waimea Canyon waterfalls hiking tour is a easy to moderate hiking tour that will take you exploring Kauai's beautiful Waimea Canyon the "little grand canyon of the Pacific." Waimea Canyon has many of waterfalls but are secluded and takes time to find them.
One of the better known waterfalls at Waimea Canyon is "Wai'po'o falls" it can be seen from the road as you drive past the 10 mile marker heading up to the top of the canyon. The trail starts between the 14 and 15 mile markers.  It is considered one of the premier trails of Koke'e State Park.  Wai'po'o Falls is a 800 foot cascading waterfall that can be seen from various lookouts along the canyon road and you won't be disappointed by this lovely hike that starts off amongst the forested bird-lands on the rim of Halemanu Canyon. This is a popular hike for families of all ages and fitness levels.  The trail ends at the top of that 800 foot waterfall along a fragrant Awa'puhi Ginger lined stream where you will find yourself  high above the canyon floor with a spectacular view of the canyon below. Waimea Canyon waterfalls hiking tour will take you on this 2 mile(one way) trail and show you one of Waimea Canyons best waterfalls.  Waimea Canyon waterfalls hiking tour is the best way to see Wai'po'o falls and it's canyon views.  During the summer months there is less rain and the streams could get low but when the water is flowing it is a beautiful swim hole.  There is spectacular canyon views and often times are treated with wildlife like native birds and wild goats that often make these cliffs their home and are always  a pleasure to see.  It is the best way to explore and see the beautiful island and its most remote spots that most people do not get to see.