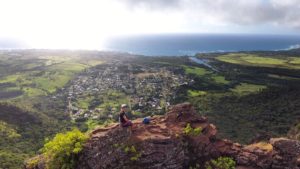 Sleeping Giant Hiking Kauai Tour
Sleeping Giant Hiking Kauai Tour is a 2-mile journey that climbs toward the summit, going through the forest for roughly an hour until reaching the top.
The Hawaiian name for Sleeping Giant mountain is Nounou, and some guidebooks and maps refer to it as this. Locals call it "Sleeping Giant" and it is easy to see why. From nearly every angle the mountain's profile it looks like someone is laying down on their back, with the summit being the "giant's" forehead. Sleeping Giant Hiking Tour has beautiful views, lush green flora, and a high elevation change. Families of all ages hike Sleeping Giant, so if you have children that enjoy being active, they should have no problem with this trail. Along the trail you will be surrounded by bushes of strawberry guavas that are good to eat.(depending on the season). At the summit  of  Sleeping Giant Hiking Tour you will be treated with amazing views of the Pacific ocean on one side, and the center of Kauai and Mt. Waialelale on the other. To the north is Kalalea (King Kong) mountain in Anahola, and the southern view is marked by Black Mountain and is the range that separates the south side of the island from Lihue.
Dare to Conquer the Giant?  Sleeping Giant Hiking Tour will take you on a trek that has winding switchbacks that zig-zag through lush vegetation. Go up the giants chin, nose, and forehead. From the summit of Nounou mountain aka Sleeping Giant, Sleeping Giant Trail will give you stunning views of the Eastside coastline. This hike you will gain around 965 feet and is best during early mornings or mid afternoon.  Sleeping Giant Hiking Tour is a  4 mile hike round trip and is rated easy to moderate.