Waimea Canyon and Kokee Hiking Tour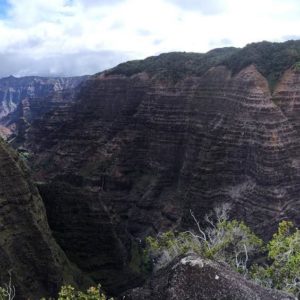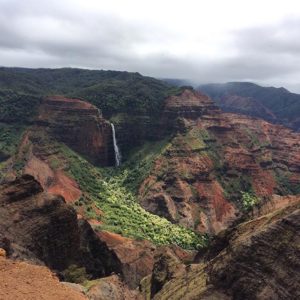 Waimea Canyon and Kokee Hiking Tour is one of the best ways to see the Waimea Canyon"Grand Canyon of the Pacific".   Waimea Canyon is approximately ten miles long and one mile wide. It is 3,600 feet deep, located on the western side of the beautiful island of Kauaʻi in the Hawaiian Islands. The canyon has a colorful array of red, brown and green hues which are complimented by waterfalls and frequent rainbows. Millions of years ago, volcanic activity as well as the Waimea River flooding from the rains of Mt. Wai'ale'ale, helped carve out this canyon. Erosion and rainfall are among the factors that continue to chisel away at this mountainous beauty.  Waimea Canyon is one of the only places you can still hear the beautiful native forest birds that fly from tree to tree, entertaining you with their beautiful songs, and where you can discover and explore endemic flora such as the Ohia Lehua and Koa wood trees that are native to the island of Kaua'i.  National Geographic just made Kauai, HI one of the best places to travel in the world for 2017.  Waimea Canyon and Kokee Hiking Tour can take you to some the most beautiful hidden valleys, swamplands, canyon views, coastline views, and waterfalls that will leave you in awe and wanting more.  Kauai's natural beauty is just a part of the experiance, learn some history and have a good time with our local guides that will enlighten you with island culture and local tips of what to do and where to go.
Waimea Canyon is one of the nation's most beautiful hiking destinations on a year-round basis. Whether you are a beginner looking for a simple and fun stroll through the canyon or a veteran hiker ready for a challenge, Waimea Canyon has something for everyone!