Hiking Kauai Trails Hawaii | Kauai Hiking Trails Kauai Hawaii
Explore amazing secret waterfalls, canyon trails, enjoy lush valley views, and coastal hikes. Our local guides will take you to their favorite island spots and give you a once in a lifetime experience hiking some of Kauai's most beautiful trails. Do it safely. Do it local.
Hiking Trails Kauai Hawaii: There are a number of Hiking Trails in Kauai Hawaii. Here you can see a list of hikes and pictures of some of the most pristine and beautiful hiking locations within Kauai Hawaii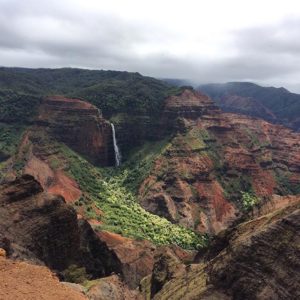 Waimea Canyon
Approximately ten miles long and up to 3,000 ft deep, located on the western side of Kauai in the Hawaiian islands. The canyon was formed by a deep incision of the Waimea River arising from the extreme rainfall on the island's central peak, Mount Wai'ale'ale, almond the wettest place on earth. Waimea Canyon is known to be the "Grand Canyon of the pacific."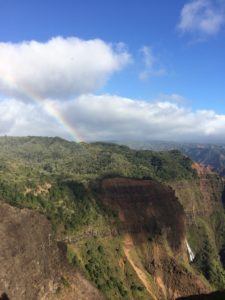 Waipo'o Waterfall – 4 miles roundtrip ( 2 miles each way) (easy-moderate)
The trail ends at the top of the 800 foot waterfall along a fragrant Awapuhi Ginger lined stream where you will find yourself perched high above the canyon floor with a spectacular view of the canyon below.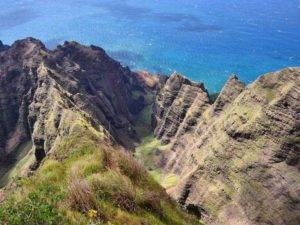 Awa'awa'puhi Cliff trail – 6.4 miles roundtrip (3.2 miles one way) (moderate)
Ala'kai Swamp – 8 miles roundtrip (4 miles one way) (moderate-hard)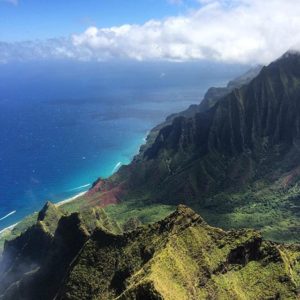 NA PALI COAST / KALALAU VALLEY
The Kalalau Valley is located on the northwest side of the island of Kauai in the state of Hawaii. The valley is located in the Na Pali Coast State Park. The Na Pali Coast is very rugged and is inaccessible to automobiles. The only legal ways to access the valley are by kayak or by hiking the 12 miles to Kalalau Trail.
2 mile – Hanakapi'ai Beach
4 mile – Hanakapi'ai Waterfall
6 miles – Honokoa Waterfall
12 miles – Kalalau Beach/waterfall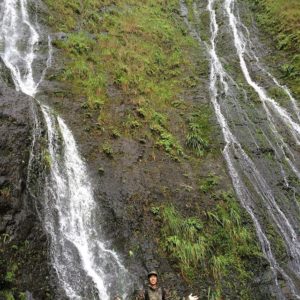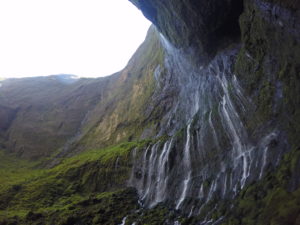 BLUE HOLE ( WAIALEALE)
MT. WAI'ALE'ALE (in Hawaiian, literally, "rippling water" or "overflowing water". Elevation is 5,148ft and is a shield volcano and the second highest point on the island of Kauai. Averaging more than 428 inches of rain a year since 1912, with a record of 683 inches in 1982. its summit is considered one of the rainiest spots on earth. 5'000 ft waterfalls and lush scenery surrounds you. One of the most amazing places you will ever go to. Felt bottom shoes are provided. if you are a avid hiker and love waterfalls this hike is for you! (Jurassic Park GATES)
4-8 hours (moderate-hard)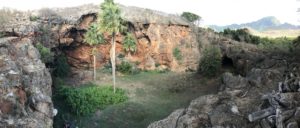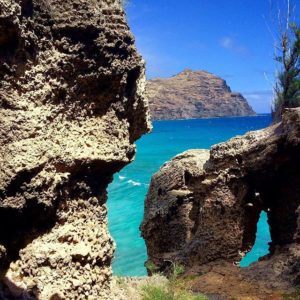 South Side Coastal Hike to Ocean Cliffs
Amazing Hike that takes you along the edge of lithified limestone cliffs on the south shore of Kauai. Explore one the last remaining stretches of undeveloped land on the south side of the island. Beautiful sights of Maha'ulepu beach, Houpu mountain, Kawelikoa point, and the Makauwahi Cave Reserve are things that you can look forward to seeing. Movies like Jurassic Park, six days, seven nights, Avatar, and Hook are just some of the movies that were filmed in this area. 2-4 miles (EASY)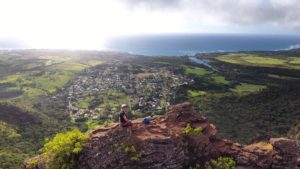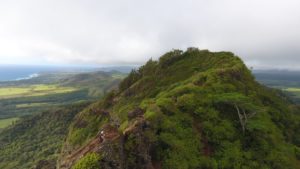 SLEEPING GIANT TOUR
Conquer the Giant. This hike will take you on a trek that has winding switchbacks that zig-zag through lush vegetation. Go up the giants chin, nose, and forehead. From the summit of Nounou mountain aka Sleeping Giant, you will be amazed at the stunning views of the Eastside coastline. This hike you will gain around 965 feet and is best during sunrise/sunset hours. Hiking Trails Kauai.
(4-5 mile) roundtrip (easy-moderate)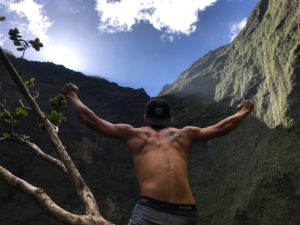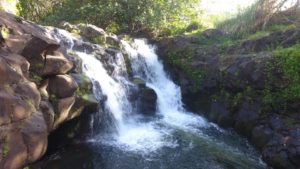 CUSTOM HIKING TOUR (CHOOSE YOUR OWN)
Let us know what type of adventure you are looking for and then rely on our expertise to show it to you in the safest, most exciting way possible.
Hiking Trails Kauai
Explore Kauai's most beautiful waterfalls, cliff, canyon, and valley views by hiking into the heart of Kauai and go "off the beaten path" to some of Kauai's most remote areas. Let us know what you want and we will blow your mind. This is the best and only way to go HIKING KAUAI. Let us show you the real Kauai from a perspective of a Local.
(2-4 hours) (4-8 hours) (Overnight Backpacking)