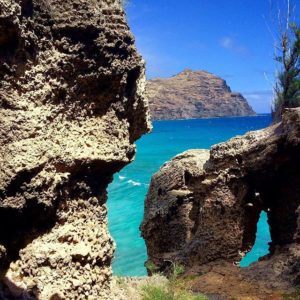 Maha'ulepu Coast Hiking Tour
Maha'ulepu Coast Hiking Tour is a great coastal hike that takes you from the south east corner of Shipwreck Beach Keonela Bay along sand-dune cliffs, Kiawe trees, limestone formations and rocky inlets that are an occasional safe haven for marine life, such as sea turtles and the endangered Hawaiian Monk Seal. Mahaulepu Beach is remote and rugged and the ocean here is usually rough and more suited for whale watching, beach combing and hiking. Maha'ulepu Coast Hiking Tour will show you the jagged limestone cliffs and coastline and also some of the secret beaches and secret sea caves on the South shore of Kauai.
Maha'ulepu Coast Hiking Tour lets you explore one the last remaining stretches of undeveloped land on the south side of the island. Beautiful sights of Maha'ulepu beach, Houpu mountain, Kawelikoa point, and the Makauwahi Cave Reserve are things that you can look forward to seeing. Movies like Jurassic Park, six days, seven nights, Avatar, and Hook are just some of the movies that were filmed in this area. Maha'ulepu Coast Hiking Tour is awesome because you will get to see so much on a fairly flat and easy hike.  Maha'ulepu Coast Hiking Tour starts at Shipwrecks Cliff. After about a 2 mile on trail you will be amazed at the Makauwahi Cave Reserve.  Makauwahi Cave Reserve is the largest limestone cave found in Hawaii.  This is a fantastic activity for the kids and families.  Maha'ulepu Coast Hiking Tour trail will help you discover the ocean cliffs, tide pools, local plants, sand dunes, blowholes, and really cool carved lava formations.  The winter season will some times give you views of whales, dolphins, Hawaiian monk seals, and big giant sea turtles.  These are some of the oldest sand dunes on the coast formed 350,000 years ago.